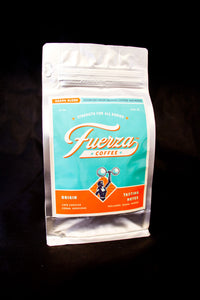 Guapa means beautiful and this blends celebrates the beauty of people working together across borders to provide a high-quality, delicious coffee sourced directly from women farmers.
***Subscribe and save! Choose your preferred quantity and shipping frequency. Discount is based on a minimum of 3 payment cycles.***
Our Guapa Blend is sourced from women coffee growers associated with Cooperativa Cafe Capucas in Honduras.
Tasting notes include molasses, grape and mango.
12 oz, 2 lb, and 5lb bags available. 
Choose your preferred grind: whole bean, aeropress, auto drip, French press, or espresso.